Revamping one of my communities.
sm_iepisodic
from an episode-claim specific icon community to an all-fanworks episodic challenge community. See below: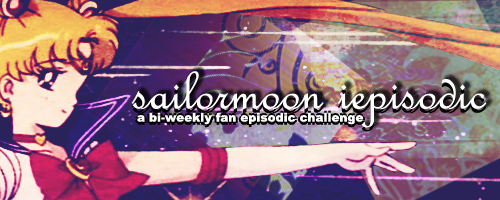 [community][profile][join]

Sailor Moon iepisodic challenge is a bi-weekly fan challenge based on an anime or PGSM episode, a manga act, or any other theme chosen by the moderator -all relating to Sailor Moon of course.

Participants will have two weeks to inundate the community with fanworks based around the chosen 'episode'. The following fanworks are accepted:



Icons - Make icons from the specified episode! Lots and lots of icons! Who doesn't love icons?


Fanfic - Write a fanfic centered around the episode -- but only the episode specified in the challenge. Drabbles or longer fic are acceptable. Please ensure to include a rating for your fic.


Fanmixes - Make a mix cd centered around the episode! Must include a link to download the music and reasons for your choices. A cover is not mandatory, but is encouraged.


Music Videos - Make a music video! You must only use footage from the specified episode.


Fanart - Show off your artistic skills by drawing a picture based on the episode.


Graphic editing - wallpaper, collages, manips using images from the episode. Are you a graphic editing pro in photoshop? Then the sky's the limit. Be creative, maybe you even want to do a calendar with images from the episode. It's up to you!


So pop on over and contribute! The current (and first challenge) is the first episode of the anime.
I've decided to change